What is Landscaping?
Landscaping is the process of designing and maintaining an area of land. The landscape designs include a wide variety of considerations, from soil conditions to plants that are indigenous to the region.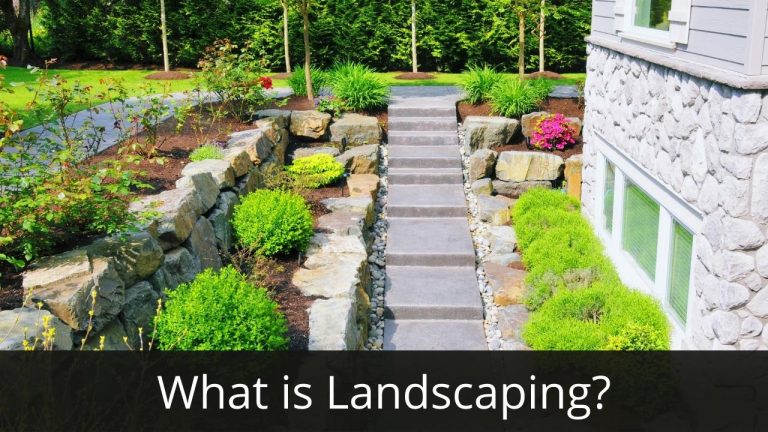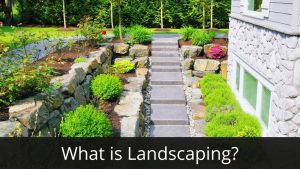 Landscaping can be done for various purposes:
-To provide a pleasing, or functional setting.
-To help reduce energy costs in buildings and urban areas.
-It might even be done to help reduce the effects of flooding.
Landscaping can be used for many different reasons, but it is always a good idea to consider how your landscaping will affect you and the people around you.
16 Landscape Ideas for Water Features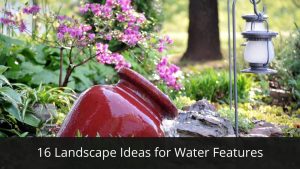 1. In-ground basins and water fountains
In-ground basins and water fountains can be a great way to add some life to your garden. They provide a place for you to relax and enjoy the sound of water. Additionally, in-ground basins can be used as an exercise informality, allowing for different colored flowering plants that would not normally grow together. Lastly, in-ground basins are a great way to enjoy the benefits of water in your garden.
2. Wonderful waterfall
A waterfall is a beautiful addition to any garden (Zen garden). This can be created with rocks, or a natural fall of water over the edge of an elevated area. It will cascade down through any plants and into a pool of water. A rock structure or a sloped grass-covered area with tumbling falls can be used to create a natural waterfall. This will cascade over plants and into a pool of falling water
3. Wine barrel mini garden pond
A wine barrel mini garden pond is a great way to make use of an old wine barrel. You can turn it into something that catches the water runoff from your roof, or you can put one together yourself. The barrel is filled with water and stones, then topped off with plants to make a small pond that will add beauty to your yard or garden.
4. A backyard stream
The best choice would be to add movement into your landscape design with a backyard stream. This water feature can be simple or complex, depending on how much work you want it to do. It can be as simple as a small creek that runs through your garden or it could be a large pond with multiple waterfalls. The design of this type of feature will largely depend on what you want to use it for.
The most important thing when you are designing a backyard stream is to make sure that the cascading water flows in a natural way. You don't want your stream to look like it was designed by a man. You want it to look like it just naturally flowed into your garden and is a part of the landscaping.
5. Tabletop rock mini garden
A tabletop landscape garden could be done to create a natural outdoor water feature in the home. Tabletop gardens are typically built on top of an old table or other flat surface and can be designed to look like a natural landscape or to include the owner's favorite flowers.
6. Above-Ground Pools
An above-ground pool adds some fun and excitement to your backyard. They are relatively inexpensive, easy to install, and they can be used year-round! Above-ground pools are a great way to entertain family and guests.
7. Circle Round
A water circle fountain is an appealing centerpiece in the middle of your backyard. A circular pool with jets shooting out from the bottom will create interesting shapes and patterns as the water comes up, and is a good way to create some relaxing background noise. You can also place small fountains around the edge (focal point) of it for decoration or to add more sound.
8. Mini Pond Box
A Mini Pond Box water features can be modified using a large fountain without the commitment of building an entire pond. They are typically made from wood, or sometimes concrete and stone, and are typically filled with rocks, sand, and other materials to create a natural-looking landscape feature.
9. Hypertufa fountain mini water garden
This is a small idea for those who want to add some greenery and water to their garden. The hypertufa fountain mini water garden will not take up too much space, but it will add a touch of serenity to the garden.
The hypertufa fountain mini water garden is made from two pieces of wood or bricks to support the pot, and then fill it with a hypertufa mixture. Hypertufa is a soil-less medium that can be molded into any shape and then dried to become hard and durable. It comes in various colors, so it is easy to find one that matches the color scheme of your garden.
10. Indoor Pond in a jar
An indoor pond can be accomplished by filling a jar with water and then adding rocks and plants. Fill the area beneath the jar with pebbles so that it looks like an outdoor rock or outdoor fountain garden.
11. A sloping stream
A sloping stream can be created by using a small waterfall to create an area for the water to flow over rocks. Slopes are used in order for the water not to pool and stagnate in one area, but to flow over and down into the next.
12. Stone Fountain
A stone fountain is a fantastic addition to any landscape. This type of water feature can create that tranquil feel perfect for relaxing and entertaining guests. Finding the right space for this kind of structure in your yard is important.
13. Fountain with Fire
A fountain should ideally help your landscape balance and make it look better by adding water features. It can be used for design purposes, and it will work well with the barren land around it. A fountain with a fire pit can be an especially dramatic addition to any backyard or garden space and will add a lot of interest, as well as provide light in the evening.
14. Backyard pond
A backyard pond or backyard fountain can be a significant accumulation to any garden space and provide an excellent opportunity for wildlife viewing, relaxation or exercise. In order to create your pond, you will need to create a huge hole in the ground and line it with rocks. If your pond is to be used for fishing purposes, stock it with fish before filling it.
15. Floating stepping stones
Water features are often an integral part of the landscape and can be a beautiful addition to any backyard. A water feature is typically composed of many different elements, including a water fountain, stream or pond. Floating stepping stones are another popular feature for water features. These can be made from many different materials depending on the style and theme of the surrounding landscape.
Great material for floating stepping stones is concrete, which can be molded into any shape or design and easily attached to the bottom of a pond, stream or fountain using cement glue. This is an alternative to using stone or rock, which can be expensive and difficult to install.
16. Pondless waterfall
Pondless waterfalls are designed to create the appearance of a waterfall without requiring an actual pond. These can be installed indoors or outdoors and may even have pumps that allow them to operate in smaller spaces. It is the most effective means to increase the beauty of your garden.