Why Garden Improvement Is Important?
Gardening is not the most glamorous of hobbies, but it can be a very satisfying one. Gardening has been scientifically proven to reduce stress and improve sleep quality. It also helps increase physical activity, which is important for good health.
Gardening can also be a very social hobby because it often brings people together to share tips and tricks or just get advice from each other on what they've planted. Gardening can also be a very cheap hobby, especially if you are willing to do it yourself and not pay for expensive services from gardeners.
How To Improve Your Garden On A Budget: 5 Tips & Tricks
-Mulch is a great way to cut down on the weeds and improve your soil.
-Grow plants that are native to your area, these will require less water than other plants.
-A garden can be made out of just about anything, you don't have to spend a lot.
-Consider an herb garden, they are easy and cheap to maintain but produce tasty results.
-Don't forget to add a water source, this will attract birds and other wildlife.
10 Cheap Garden Ideas For Your Outdoor Space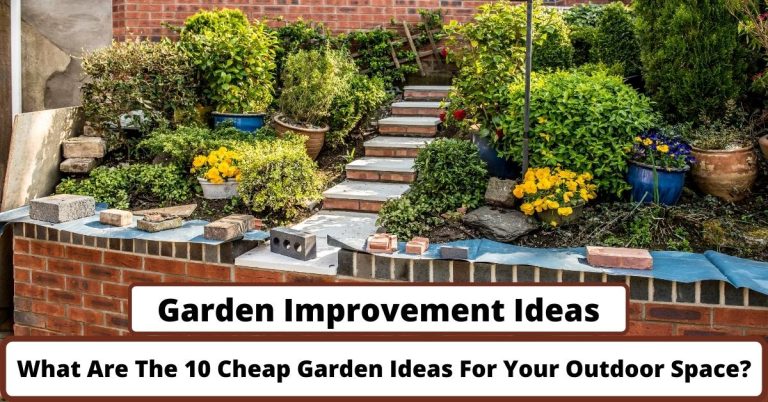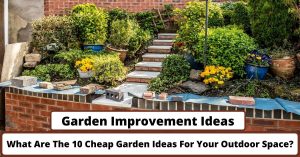 1. Fill with flowers
Flowers are one way to bring color and life into your home. You can also use them as decoration or even as a food source by eating them. There are different types of flowers you can grow to last for a long time, but if you plant the right type of flower in the right place, they'll thrive for a long time too.
2. Produce Some Plants
-You can grow vegetables and herbs in pots, raised beds, or containers. The most expensive part of this is the container, with a pot costing around an 8-inch pot.
-If you have some leftover paint, use a roller to create stripes and other patterns in the garden bed or around your pots. This is easy on the wallet and will give your plants a little color.
-If you want to add some height to your garden, consider using bamboo poles or stakes. You can also use them to support plants that need them. They are fairly inexpensive and can be found at gardening stores or online.
-You can also use old CDs to reflect the sun into your garden bed. Just place them on top of the soil, with the reflective side facing up.
-If you have a fence around your garden, use it to your advantage! Plant vines that will grow up the fence and give some privacy while adding beauty. You can also grow herbs or flowers that will give you a delicious flavor.
3. Look after your lawn
-Mow your lawn at least once a week
-Keep the grass trimmed and weed-free, especially if you have an organic garden
-Be sure to water daily in hot weather
-Add a mulch layer to keep the soil cool and moist
-Use moss or grass clippings as a natural fertilizer
-Turn your compost pile regularly to ensure that it gets enough air and heat
-Keep a small garden rake on hand for weeding, removing rocks, and other tasks
-Use organic pesticides and fertilizers when you need them
-Don't forget to water your garden on a regular basis, especially after it rains or if the weather is very hot
4. Clean your patio
If you have a patio, this is the time to start looking at it with fresh eyes. What could be improved or changed? Maybe your patio needs some new plants and flowers in containers to make it more colorful. You could also add furniture, like a bench or an outdoor table and chairs made of the same material as your patio flooring.
5. Add a water feature
A bird bath can be a cost-effective way to add water features to your garden. Birds will enjoy the fresh water, and you'll enjoy the beauty of the bird bath in your garden.
Another option for adding a water feature is to bury an old bathtub or sink. This can be a fun and interesting project that will add personality to your outdoor space.
6. Light it up
You can buy a few candles, lanterns, solar-powered lamps, and fairy lights online for cheap. You can decorate your garden with these items to add a lovely glow after dark. Garden design is not just about plants, it's also about light.
Consider the light and choose plants that thrive in your space based on both sunlight hours and seasons. Remember to add tall trees to soften a harsh wall and elongate the garden space.
7. Paint surrounding walls to define planting
You can give your garden an instant boost by painting a garden shed. Pick a color that really shows off your planting and spend the extra money to buy exterior paint, which is easier than painting it yourself.
You may also want to go ahead and paint fences surrounding your garden too if they're looking old, tired, or drab. Painting fences or sheds to bring new life and color to the garden is a great way to define the planting space. You should choose a color scheme carefully, as dark colors or natural colors are more attractive than light colors. You should focus on plants with subtle, elegant flowers; the flowers will be the center of attention and not a garish addition to your garden
8. Stick to cost-saving designs
When designing your garden, it's important to stick to cost-saving designs. One or two level plateaus can be enough for a garden. This will help minimize the need for foundations, which can be expensive and time-consuming to build.
Decking is also a useful feature in areas that don't offer much structural support. It can be used as an alternative to paving stones and helps with sloping garden improvement ideas.
To build a deck, you'll need to have the sub-frame already built; this is another costly and time-consuming part of the process. However, if you're handy with tools, it's something you can easily do yourself.
You could also add features such as wood shelves or longline shelves to cover more wall space. These are easy and cheap to make but will add color and style when treated with wood preserver or colored garden paint.
Greenery and lanterns can be mixed in with planters to create variety and texture – giving your guests plenty of eye candy while they relax outdoors! Finally, mixing height sizes of objects creates a more interesting display, as well as a variation for your guests' eye level.
9. Make a planting table with old pallets
Pallets can be easily repurposed into a table or display for plants. Pallets can often be found for free, making them a cheap option.
The pallet garden planters are another inexpensive garden DIY idea that are easy to put together and use. You simply screw the boards onto the pallet slats to make several small pockets in which you can plant your flowers or herbs.
The key to cheap garden ideas is DIY skills. This garden improvement idea can be used on any plot and would also make a fun project for young children or adults with limited time and skillset.
If you're looking for more cheap garden improvement ideas, pallets offer plenty of shapes and colors to choose from. Plus, they provide a nice sunny boost of yellow to the space!
10. Always negotiate with professionals
When it comes to getting work done on your home, such as having a garden created, it is always worth negotiating the price. A good garden designer can help with everything from planning to managing contractors to guidance on budgeting. It is possible to get a better deal by asking for special deals from your local builder's merchant.
It is also worth asking at DIY stores, but always make sure you receive a written quote first. The cost of materials is always a factor when re-creating a garden, so be sure to ask about discounts before you agree on anything. Nine times out of ten, customers will want to beat their competitor's price – so don't be afraid to ask! However, remember that small gardens often cost less to create than a large garden – so this could be an option if space is tight.
Finally, some of the ideas given are as simple as placing rocks on top of floral arrangements and adding a bench for seating or another decorative item like a bird feeder. These small additions can really enhance the look and feel of your outdoor space without breaking the bank.